FEEL THE POWER
SWING GATE 12-INCH SUBWOOFER ENCLOSURE FOR FORD BRONCO
TXFBB12
$539.00
PERFECT FOR 2021 FORD BRONCO 2-DOOR AND 4-DOOR
Built tough and made to fit your Ford Bronco's tailgate, this 12" bass enclosure offers a quick and easy way to add a high-powered subwoofer to your audio system. The subwoofer enclosure utilizes the tailgate for mounting, saving space while also being rugged and weatherproof. Phoenix Gold designed a subwoofer specifically for this enclosure to maximize performance and deliver deep, accurate bass. Get ready to enhance your next adventure with the addition of this custom subwoofer solution.
All mounting hardware included.
Installation Video Coming Soon!
Push your Bronco's bass to the limit. Experience clean, articulate, goose bump inducing bass; jam packed with every musical detail.
Engineered to overcome the lack of space hurdle where space is a premium, without compromising power and sound quality,
Designed to withstand harsh outside elements including water, dirt, dust and debris.
FEEL THE POWER OF PHOENIX GOLD
ENCLOSURE FEATURES
Roadkill-Armor Coat
Permanent Heat Bonded EPM Enclosure Coating
(Elastomeric Polyurethane Molecule)
Weather-Resistant for Harsh Outdoor Environments
Sound Dampening Properties for Resonance Reduction
Scratch, Crack, and Peel-Resistant
Chemical and Stain-Resistant
Impact Absorption
UV Protection
Provides Leak and Corrosion Prevention
Heavy-Duty 11-Layer High-Density Plywood Construction
Durable, Coated Steel Subwoofer Grill for Extra Protection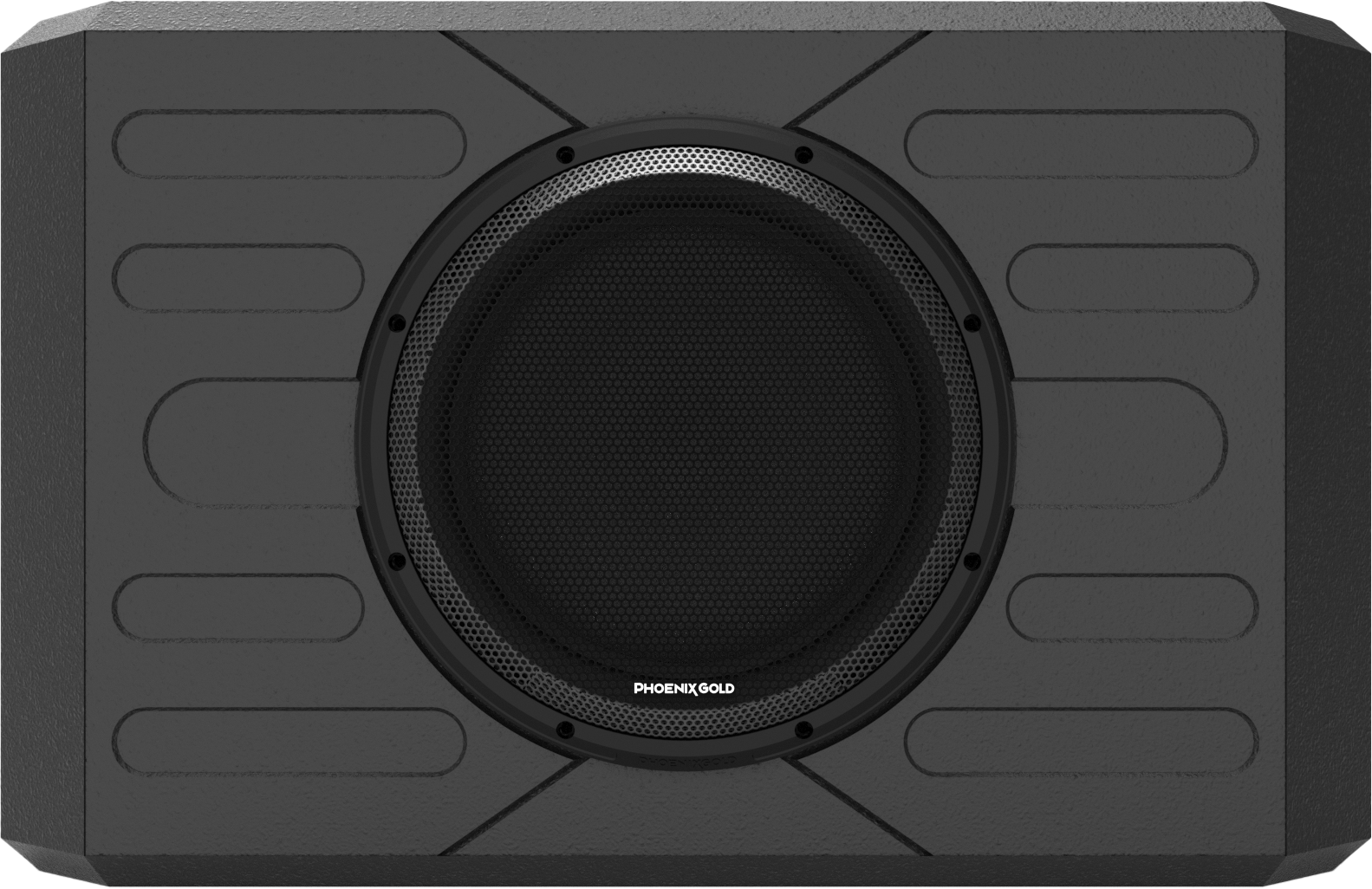 400w RMS 12" Weather-Resistant Subwoofer
Rugged Weatherproof Design
Fiber Matrix Injection Molded Polypropylene Cone
Rubber Surround
Powder-Coated Frame
Wrap-Sealed Rubber Gasket
2.5" Voice Coil with CFL³ and MBL Technologies
MLB Collar Technology- Enables Micro-Level Bonding with Cone & Spider for Increased Strength
G-Lock Technology Utilizes Adhesive and Mechanical Bonding Between the Cone and Voice Coil
Air-Cooled Ventilated Motor Topology for Providing Optimal Thermal Efficiency, Reducing Motor Compression and Extending
Low-Frequency Response
Black Anodized Voice Coil Former-Provides Heat Dissipation
CFL³ Technology Voice Coil- 3x More Structurally Rigid, Prolonging the Life of the Voice Coil
Concave-X Cone Technology Strengthens the Rigidity of the Woofer's Cone Body and Minimizes Distortion While Increasing High-Pressure Handling Produced in Shallow Enclosures
Magnetic FEA High-Efficiency Motor-Provides Highest Possible, Efficient Motor Design
Linear Surround Technology-For High Excursion and Increased Output
Linear Excursion Suspension - For Accurate Bass with Impact